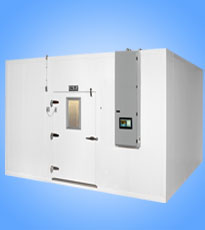 Product Overview
Used to test or store large batches of products
CSZ Walk-In stability rooms provide a stable, temperature and/or humidity-conditioned environment for worry-free operation with a control system that is easy to use and saves you time. These chambers are designed for stability studies and testing large batches of product.
Environmental rooms are available in temperature only or temperature & humidity. Constructed with 4" foam modular panels and ceiling mounted conditioning systems. All CSZ stability rooms meet ICH Q1A guidelines. Each conditioning system is tested before shipment. Our factory-trained service team can also assist with the assembly, start-up and training of your new environmental room.
The CSZ EZT-570i Touch Screen Controller offers a 7" or optional 10" touch screen and the latest in test chamber programming for ease of use. Comes standard with data logging, data file access via memory stick or PC, Ethernet control and monitoring, alarm notification via email or phone text message, data file backup, full system security with 4 levels of security including digital signatures, online help & voice assistance in multiple languages and more.
Key Features
CSZ EZT-570i Touch Screen Controller
Ethernet monitoring & control
RS-232, RS-485 serial communications
Stainless steel interior
Door with heated viewing window & interior lights
An electronic humidity sensor for accuracy
Stainless Steel Interior liners are constructed from Type 304 brushed stainless steel that is easy to clean and thoroughly sealed to prevent moisture migration. Other interior such as aluminum are available for mild temperature ranges for a more economical solution.
Chamber Exterior is White Embossed or aluminum scratch resistant exterior
Fog-Free Viewing window & door
Vapor Proof Lights
CSZ chambers utilize refrigerants which are environmentally safe, non-flammable, non-explosive and have a Zero Ozone Depletion Potential (ODP).
An electronic humidity sensor is used on all models for accuracy and minimal maintenance.
Available Options
For further information on options available for this Product, please contact our specialist sales team on:
+44 (0) 1462 481859 or
Downloads Datasheets

Stability Rooms & Environmental Rooms

Stability Rooms & Environmental Rooms
Request Quote
Please select the form below relevant to your enquiry:
Videos