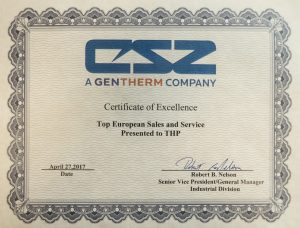 THP Systems are pleased to announce that they have received the award for Sales and Service Excellence for Europe from Cincinnati Sub-Zero (CSZ).
Andy Leadbeater commented "We appreciate being recognised by CSZ for our employees efforts in expanding the Sales of CSZ's range of climatic chambers across Europe."
THP Systems have had significant success in our UK Market which has enabled expansion into new territory's across Europe and it's clear that the strategy of providing our customers with world leading sales support is successful. THP Systems fully intend to grow the sales of CSZ's products in 2017 and will increase their internal and external resources in line with the growth plans already in place for Europe.
The team at THP Systems would also like to thank the CSZ staff in the USA for the excellent support on a day to day basis and look forward to strengthening our partnership in the future.
For further information on how THP Systems and CSZ can enhance your thermal test capabilities please visit  https://www.thp-systems.com/manufacturer/csz-industrial/ or contact us at mailto:info@thp-systems.com