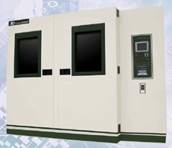 Product Overview
The Thermal Cycling Climatic chamber , manufactured by King Design, realistically simulates the environment according to temperature and humidity.
These chambers can be constructed to accept a wide range of Photo Voltaic panels and accommodate panels up to 2.2 x 2.8 Meters
All King Design Photo Voltaic Test Chambers have a temperature range of -45 ℃ to +110℃  with a temperature constancy: ±1.0℃ , and a temperature uniformity: ±2.0℃
Full humidity functionality is also provided allowing tests to be performed between 10% and 85% RH with a humidity consistency of +/- 2,5% RH
King Design's Thermal Cycling and humidity freeze test Chamber conforms to IEC 61215 10.11 thermal cycling test 50 to 200 cycles
For further information on our Test Chambers, please contact our expert Sales Team.
Key Features
Large quantity of panels can be tested in a single chamber
LCD type Programmable Controller
Full compliance to IEC 61646-61215 -10.11
Fully interlocked for user safety
Available Options
Variety of chamber sizes available to suit PV Panel size and quantity
Auxiliary PV  Panel Power supply's available for use whilst Panel is under test
Data Acquisition Systems
Downloads Datasheets
Please contact our specialist sales team on:
+44 (0) 1462 481859 or
Contact Us via THP-Systems.com
to request a Datasheet or Brochure.
Request Quote
Please select the form below relevant to your enquiry:
Videos