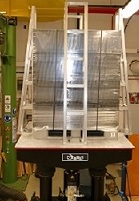 The BFSV Packaging Institute have expanded their current package test facilities by recently installing an L.A.B servo hydraulic vibration system (HV60) which allows payloads of up to 1300 Kg to be tested.
This investment by BFSV enables customers to test heavy packages and stacked loads for transport simulation such as by truck, train or plane.
BFSV are able to replicate what happens to these packages in scenarios such as , potholes in the road , Air transport (turbulence) and to enable compliance to the industry standard tests such as those stated in ISTA, ASTM and DIN EN ISO.
The HV60 vibration test system was installed by LAB Equipment Inc and THP Systems and has the capability to accept payloads of 1300 kg with dimensions up to 1500 x 1500 mm (larger dimensional payloads can also be tested )
The L.A.B system Sine ,Random and shock profiles to be run and has a wide frequency range from 1 to 300 Hz.
To enable BFSV to perform the low frequency tests at higher g levels the system also has a 100 mm peak to peak displacement this new system also compliments BSFV 's existing vibration test systems which can be viewed in the attached link https://www.bfsv.de/en/test-facilities/vibration-test-rigs/
For more information on how BSFV can improve your packaging design and its durability please visit https://www.bfsv.de/en/about-us/bfsv-institute/
Or contact Frank Volkmann at [email protected]
If you would like to know more about L.A.B and there complete range of package test systems , please visit https://www.thp-systems.com/principles/l-a-b-equipment/