Introducing the new SLICE6 AIR data acquisition system to measure analog signals for in-flight, aerospace and defense testing. Offering flexibility and powerful new functionality.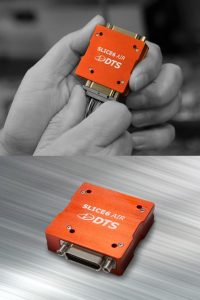 The ultra-small SLICE6 AIR allows test engineers to embed the data recorder in locations that were previously inaccessible. SLICE6 AIR can be used standalone, networked for high channel counts tests or easily integrated into existing Ethernet-based flight test instrumentation
Measuring just 42 x 42 x 13mm with a mass of 50 grams, the miniature SLICE6 AIR is optimized for size, weight and power (SWaP). The rugged module can be embedded on or in small test articles like unmanned systems, munitions and helicopter rotors without altering test dynamics. Positioning the DAQ near the sensors eliminates complicated cable runs that can get tangled or cause issues with signal or power drops, plus it helps reduce test set-up time.
SLICE6 AIR offers real-time streaming in IRIG (Chapter 10 or TmNS) as well as store-in-place recording. The system also supports Ethernet timing and synchronization using IEEE 1588 PTPV2 protocol. These new features, along with all the functionality of its proven SLICE6 DAQ predecessor, make it ideal for applications requiring high-speed streaming data collection and precision timing.
"Flight test engineers are always looking for ways to reduce lengthy test set-up time," says Huy Nguyen, DTS Aerospace and Defense Sales Manager. "SLICE6 AIR can be rapidly deployed at the last minute to support test modifications ‒ like additional sensor channels or new points of interest ‒ making it a real game-changer for speeding up the test process."
The onboard IEEE 1588 compliant Ethernet functionality allows the 6-channel SLICE6 unit to be expanded to hundreds of channels (via PTPv2 daisy-chaining ) per test setup. Programmable sampling rates support a variety of sensors including full and half-bridge, strain gauges, pressure sensors, voltage input and thermocouples. Data writes directly to on-board flash memory.
To download the SLICE6 Air data sheet click the link below
For more information on how THP Systems and DTS can enhance your measurement capabilities, please contact us at [email protected]