THP Services have the capabilities to thermal test oversized products using the remote conditioning option on our DM1600 ACS environmental chamber.
DM1600 has a standard temperature range of -75℃ to +180℃ and humidity control from 10% to 98% RH.
The chambers internal space of (W) 1000 mm x (D) 1510 mm x (H) 950 mm.
Using the remote conditioning option from the chamber with a prefabricated thermal insulated box tests have been performed between -30℃ and +90 ℃ with humidity control.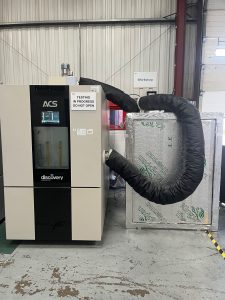 Test specimen sizes of (W) 1500 mm x (D) 2010 mm x (H) 1450 mm have been tested successfully, the remote conditioning feature within our test lab also allows customers who may have outsized or irregular dimensioned products.
For more information on how THP systems can support your testing requirements please contact us on [email protected]