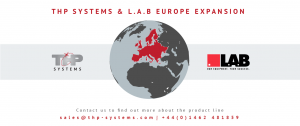 THP Systems (www.thp-systems.com) of the UK, has ventured into a partnership with globally recognized shock and vibration equipment manufacturer, L.A.B Equipment Inc of the USA. (www.labequipment.com). 
THP Systems, having found much success in the UK market over the past many years, has now brought its superior technical expertise and expert service team to existing and potential L.A.B customers. Since the announcement of the THP-L.A.B partnership, 6 months ago, THP Systems has found the demand for L.A.B shock and vibration technology growing rapidly throughout Central Europe. THP Systems, whose expertise and resources reach far beyond the UK, is now handling system commissioning, service and product support throughout Central Europe for L.A.B .
The expansion to Europe means more customers can now have access to a higher standard of product reliability and package test equipment with the THP Systems & L.A.B relationship.
L.A.B products are designed to meet or surpass a wide range of standards including ISTA, ASTM, ISO, TAPPI, and MIL-STD. The extensive L.A.B Product range includes: drop testers, shock testers, hydraulic vibration systems, mechanical vibration systems, and incline impact testers. Standard is key to package testing, which is why THP Systems are leading a move into Europe, to supply more customers with quality test products.
The move into the European market ties in with THP Systems strategy to provide customers with an all in one service. From product choice and service, to test capabilities. With this plan in mind, there is high importance to have L.A.B Equipment on board to achieve this goal.
THP Systems forecast the move into Europe will further strengthen their customer base beyond the UK. Continuing to work with L.A.B in the European market, providing customers with superior test equipment.
Please take a look at our website https://www.thp-systems.com/principles/l-a-b-equipment/ or give us a call +44 (0)1462 481859. We would enjoy speaking to you about our capabilities as well as welcome your interest and questions about the L.A.B Equipment, Inc. product line.