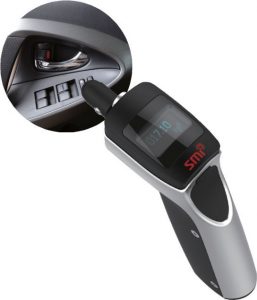 THP Systems are thrilled to announce that the BSR Checker from SM Instruments is now available from us. This innovative design provides means to detect stick-slip noise on a car assembly. The ergonomic design allows you to press down the part under test with sensitive thumb-down design, while an embedded load cell records the applied force and an embedded microphone listens and analyses generated BSR Signal.
All sensors are connected through integrated circuit board and powered through single microphone USB.  The design of the device handle follows rules for intuitive haptic sensation and the shock-absorber cylinder allows user to feel the applied force. The design also allows the non-slip tip  to be replaceable for softer rubber or harder plastic material. For precise measurements, calibration for microphone and load cell is provided.
Take acoustic measurement to the next level now, with the BSR Checker. Get in touch today at info@thp-systems.com for more information or to speak to our experts about how the checker can aid your data acquisition needs.