Customised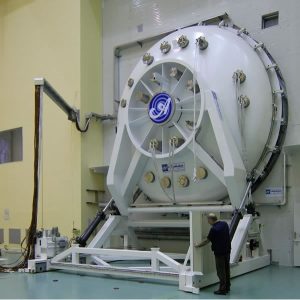 HVT240MC – 190130 GN2/LN2
Tests: high vacuum, temperature
External dimensions (chamber only): 7200x16000x9000 mm (WxDxH)
Internal useful dimensions: 5500×10000 mm (ØxL)
Internal useful volume: 240 m3
Temperature range: -190°C/+130°C
Temperature variation rate:

1°C/min from -100°C up to +100°C
1°C/min from +100°C down to -100°C

Vacuum limit: 1×10-6 mbar
Special features
Door with tilting system for spacecraft loading
Special trolley for Spacecraft loading on rails
Internal monorail crane
Spacecraft horizontality control system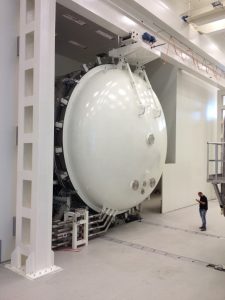 HVT200000 – 190100 LN2
Tests: high vacuum, temperature
External dimensions: 6800x14000x8000 mm (WxDxH)
Internal useful dimension: 6200×7000 mm (ØxL)
Vacuum limit: 1×10-7 mbar
Temperature Range: -190°C/+100°C
Special features
Satellite horizontal control system

HVT35 MC – 5080
Tests: high vacuum, temperature
External dimensions (chamber only): 4000x10300x4000 mm (WxDxH)
Internal useful dimensions: 3000×5000 mm (ØxL)
Internal useful volume: 35 m3
Temperature range: -50°C/+80°C
Temperature variation rate:

2°C/min from -50°C up to +80°C with 2000 kg internal load
2°C/min from +60°C down to -50°C with 2000 kg internal load

Vacuum limit: 1×10-6 mbar
Special features
Combined thermo-vacuum tests and optical measurements on satellite components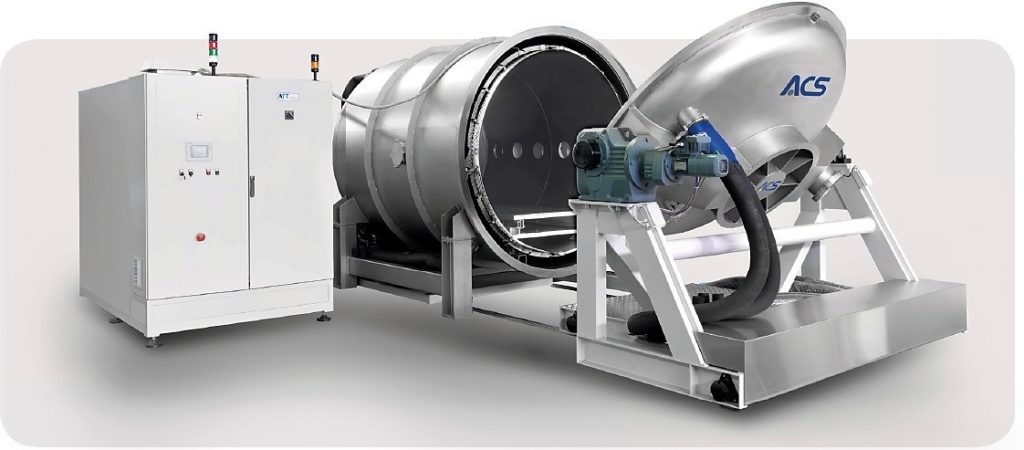 HVT8000 – 80100 MC
Tests: high vacuum, temperature
External dimensions (chamber only): 4800x5600x2700 mm (WxDxH)
Internal useful dimensions: 2000×2500 mm (ØxL)
Internal useful volume: 8 m3
Temperature range: -80°C /+100°C
Temperature variation rate:

1°C/min from -70°C up to +100°C
1°C/min from +100°C down to -70°C

Vacuum limit: 1×10-6 mbar
Special features
Door with tilting system for spacecraft loading – Removable thermal plate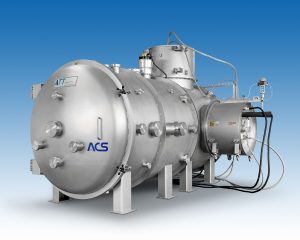 HV19000
Tests: high vacuum
External dimensions: 4600x5800x4000 mm (WxDxH)
Internal useful dimensions: 2400×4500 mm (ØxL)
Internal useful Volume: 19 m3
Vacuum limit: 2×10-7 mbar in 12 hours
Vacuum limit with 5 mg/s Xenon flow: 2×10-5 mbar
Xenon pumping speed: 70.000 l/s at 2×10-5 mbar Xe partial pressure
Special features
tests on spacecraft electric propulsion trusters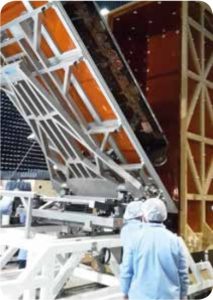 ATS10000 -6060
Tests: Temperature, RF tests
External dimensions: 1800x2700x6000 mm (WxDxH)
Internal useful dimensions: 1820x1350x4650 mm (WxDxH)
Internal useful Volume: 11 m3
Temperature range: -60°C/+60°C
Temperature variation rate:

2°C/min from -60°C up to +60°C
2°C/min from +60°C up to -60°C
Special features
combination of thermal tests and Radio Frequency measurements on antennas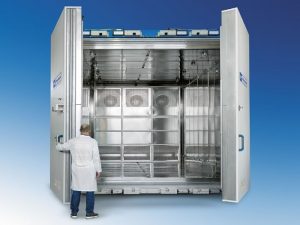 TC67 -185210 LN2
Tests: temperature
External dimensions: 4100x8000x4300 mm (WxDxH)
Internal useful dimensions: 3500x5500x3500 mm (WxDxH)
Internal useful volume: 67 m3
Temperature range: -185°C/+210°C
Temperature variation rate: – 20°C/min from -145°C up to +170°C – 20°C/min from +170°C down to -145°C
Control System
The control and management system of the TVC consists of a fully automated combination of hardware and software components.
Sequencing, safety interlocks and operator interfaces are implemented through the PLC, the core of the control system. In case of failure of utilities like power, pneumatic supply, cooling water circulation etc… the PLC provides built-in inter subsystem level interlocks to ensure the safety of operating personnel, test object and facility equipment.
HMI devices are provided for local (on-board panel) and remote (PC dedicated software) control connected to the PLC.
Key Features
Cryogenic-pump and turbomolecular-pump system for the generation of depression values down to 10-8 mbar.
Pressure value stabilisation in the 10-3/10-7 mbar range.
Programmed pressure cycles.
Partial pressure control for 6 different types of gases.
Temperature range: from -180° C to +180° C obtained by means of advanced-technology thermo-regulation systems for aerospace applications.
Available Options
For further information on options available for this Product, please contact our specialist sales team on:
+44 (0) 1462 481859 or
Resources
Brochures

ACS Aerospace Test Solutions Brochure
Request Quote
Please select the form below relevant to your enquiry: