Product Overview
IMV are world leaders specializing in cutting-edge Vibration Testing Technology. The Simultaneous Six Degree of Freedom Multi-Axis shaker is an excellent example of IMV's commitment to innovation and high-quality test solutions.
The Six Degree of Freedom (6DOF) Multi-Axis Vibration Test System is the pinnacle of a high-performance Test System, with the latest technology in environmental solutions.
All three axis operate simultaneously to provide six degrees of freedom. Hydraulic spherical bearings are used to give the free movement to the system.
The advanced design allows the shakers to be controlled either individually or simultaneously, giving the end-user a greater scope of control combined with waveform measurements that are used to replicate real-world scenarios.
All 6DOF Test Systems are custom built for individual projects, therefore it is possible for large range of applications to be addressed with this technolgy.
Learn More
Key Features
Six Degrees of Freedom: Up, Down, Left, Right, Forward, Back, Pitch, Yaw and Roll

Hydraulic Spherical Bearings
Can be used for a wide range of applications
Available Options
Ride Comfort Evaluation System
The addition of rotational motion to a three-axis system enables 6 degree-of freedom testing, as is required for vehicle seat evaluation, for example.
Large-scale 6 DOF Vibration Test System
A total of 10 vibration generators (6 vertical and 4 horizontal) and a 4000mm by 3500mm large size table allow the simultaneous 6 DOF vibration testing. This versatile platform is ideal for testing large items such as railway carriage components.
6 DOF Simultaneous Squeak and Rattle Test System for Vehicle Seats
Air-cooled vibration test system for the evaluation of squeak and rattle noise from an instrument panel or other car interior assemblies.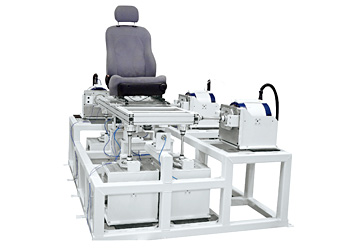 Request Quote
Please select the form below relevant to your enquiry: