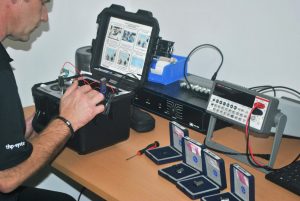 THP Systems have today announced a further expansion of their Calibration service capabilities.
In addition to THP Systems growing Vibration and Thermal Chamber service, which includes repair and maintenance to customers, THP Services can now offer calibration of Accelerometers. This can be on site at the customers premises or at THP Systems.
Andy Leadbeater, Director of THP Systems, commented "In line with our recent expansion with our Test house we are continuing to invest in our THP Services division, the recent addition of a high quality calibration system from PCB enables us to offer customers a true one stop solution for all their service needs."
This new calibration system will enable us to calibrate a wide range of both IEPE and Charge Accelerometers to ISO and UKAS traceable standards, with the added flexibility that our customers have the option to send in their accelerometers to us or we can visit site and perform the calibration within our customers test facility.
Andy Leadbeater continued "We have also recently recruited several experienced service personnel to the company to support the growth in the sales we have accomplished in the last 12 Months."
The expansion of THP Services engineering capabilities enables us to support our future expansion plans across the UK and Europe, particularly for those customers who are looking to invest in package test or environmental chambers.
For more information on how THP Systems and our services division can support your existing test facilities , please visit https://www.thp-systems.com/thp-services/ or contact us on [email protected]