Product Overview
The ACS Calorimeter is capable of covering practically all test and qualification needs for domestic air conditioning systems, both split and monoblock, either functioning exclusively as air conditioners or also as heat pumps.
The ACS Calorimeter is able to work on domestic conditioners of a maximum capacity of 12 kW. Tests can be conducted in accordance with EC standard ISO 5151-2010, keeping in mind that it is very similar to the equivalent standards used in other industrial areas.
Complete with a software package, the product of years of experience in the field, which simplifies the running of the tests and provides an immediate reading of the significant parameters.
The software, in addition to processing the data to permit an immediate display of the testing progress, produces a report summarising the results attained and stating the characteristics of the tested conditioner.
Control System

WinKratos is the software developed by ANGELANTONI Industrie S.p.A. for the monitoring and supervision of ATT climatic chambers through a PC (at customer care or on request), running under Windows (XP/VISTA/7 Professional version or higher).
Through WinKratos it is possible to create test profiles (programs), launch or interrupt the execution of a test in "manual" or "program" mode, display data in table or graphic form, and generate a report showing test results.
The software is designed to control not only single chambers but a whole test lab. It can then later be "scaled" and updated, if new machines are added to existing ones, with minimal impact in terms of time and resources.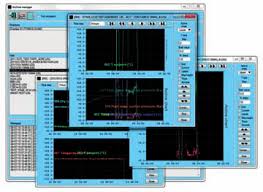 Software Winkratos Multichambers
Main Features
Connection of chambers of any type, by different kinds of interface in order to meet specific customer needs about distance, noise, etc… (Rs232, 485, 422, Ethernet)
Colour printing on any kind of printer;
Multiple access, password level.
Graphic Functions
Fully-configurable layout of acquired measures' charts;
Display of several charts on the monitor;
Several colours to be chosen at one's choice for the display of different parameters' curves;
Enable/disable of chart display and grids;
Real time update of acquired measures' charts.
Operating Functions
Create test programs;
Refer to and modify previously created test programs;
Delete all test programs that are no longer necessary;
Print any test program in text format.
Acquisition Functions
Real-time measurements of test parameters by means of graphic cursors;
Maximum flexibility for cycles to be set;
Storage of occurred events such as alarms, commands, etc…
Key Features
Air Conditioner Thermal Power (KW) 12
Overall Dim (mm) 8900x3300x3160 H
Indoor and Outdoor room Dim 3700x3000x2400 H
Indoor Temperature Range (°C)  +10 – +40
Outdoor Temperature Range (°C) -20 – +60
Indoor Dewpoint Range (°C) +5 – +39
Outdoor Dewpoint Range (°C) +5 – +59
Max Steam Flow (Kgh) 25
Code Tester Airflow (m³/h) 4000
Condensation Water Condenser
Refrigerant R404A
Absorbed Power (kW) 115
Basic Configuration
no. 4 portholes for cables entry
no. 2 windows (mm 450×450)
no. 2 inside power plugs
PC and WinKratos control S/W
Code tester sensors
Thermal efficiency calculus
Available Options
For further information on options available for this Product, please contact our specialist sales team on:
+44 (0) 1462 481859 or
Resources
Brochures

Calorimeter Chamber Specifications
Request Quote
Please select the form below relevant to your enquiry: