Customised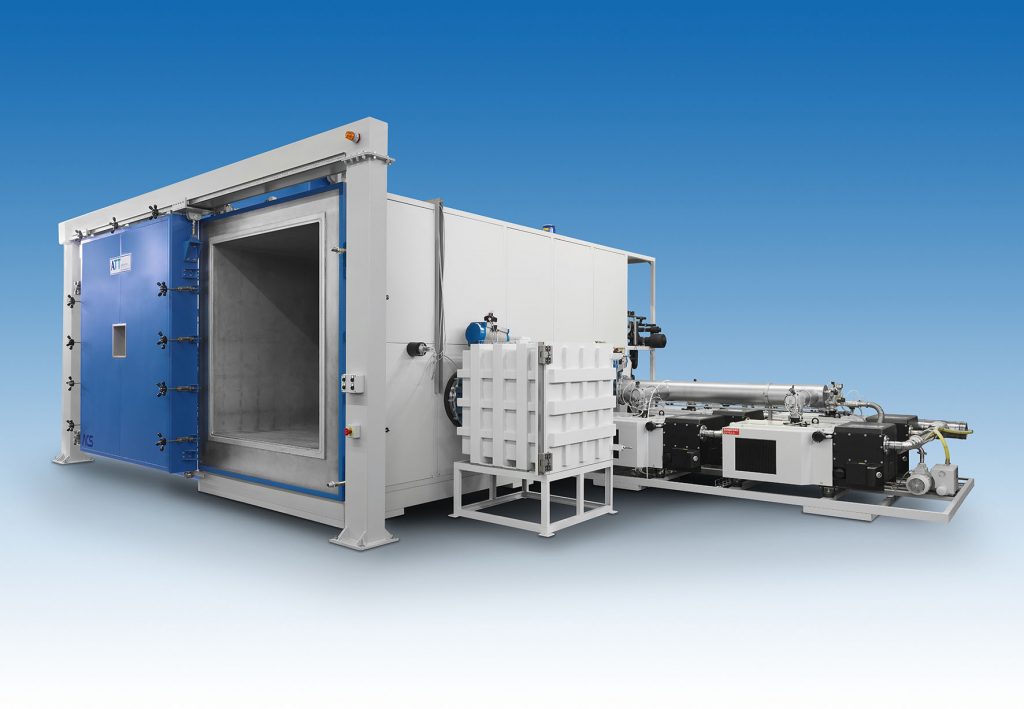 UD16000
For testing airborne large components.
Tests: Temperature, Humidity, Altitude,
Rapid Decompression, Explosive decompression
External dimensions: 10000x6300x3500 mm (WxDxH)
Internal useful dimensions: 2100x4000x2100 mm (WxDxH)
Internal useful Volume: 16 m3
Temperature range: -70˚C/+160˚C
Altitude limit: 150.000 feet
Special Features:
MIL-STD-810G METHOD 500.5
Procedure III – Rapid Decompression
Procedure IV – Explosive Decompression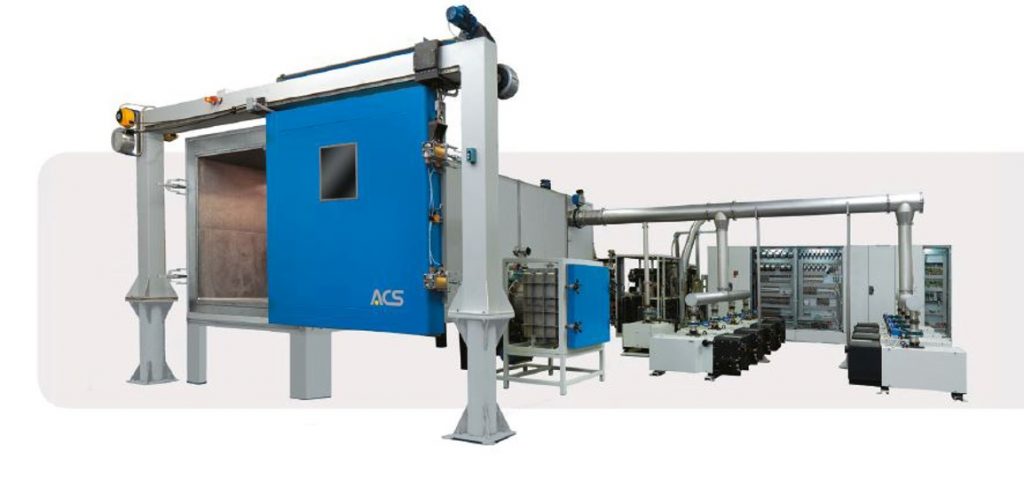 UD24000 C VT LN2
Tests: Temperature, Humidity, Vacuum, Vibrations
External dimensions (chamber only): 2600x7800x3050 mm (WxDxH)
Internal useful dimensions: 2000x6000x2000 mm (WxDxH)
Temperature range: -75˚C/+150˚C
Pressure range: from ambient down to 10 mbar
Special Features:
Fast depressurization from ambient down to 45 mbar in 1 min.
Control System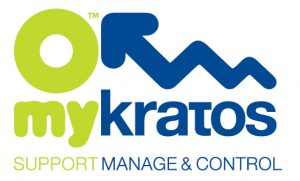 MyKratos™ control software makes it possible to manage, monitor and assist the chamber anywhere, at any time, in multiple ways via the on-board panel and desktop/mobile devices (Wi-Fi, Ethernet, mobile network). The chamber wireless (Wi-Fi) connection permits operation using tablets and smartphones (iOS or Android compatible).
The operator interface can also be remotely accessed through a chamber connection to the customer's LAN or via mobile network (on activation of a SIM card data). It includes the MyAngel24™ interactive assistance system.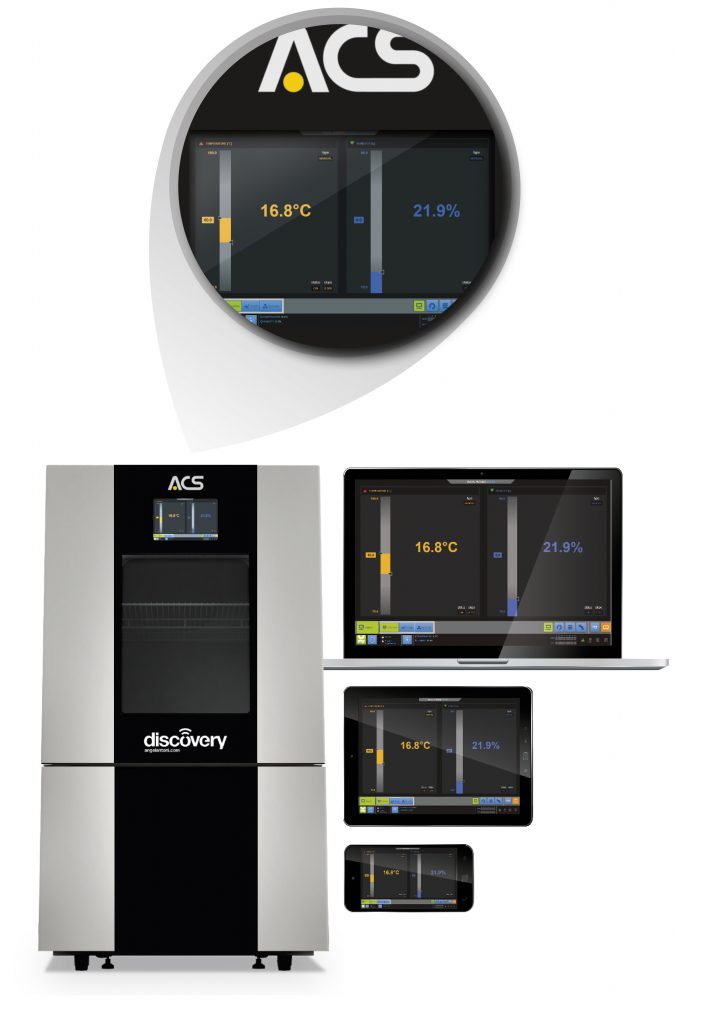 Main Features
Wi-Fi or Ethernet connection to the chamber
Visualization and graphical analysis of measures and recordings
Synoptic charts of the entire system
Multilanguage support
High configurability of chamber parameters
Unlimited measures recording possibilities
Program and Manual chamber operation modes
Delayed start of a program
Possibility to select more than one chamber from a single Tablet: secure access by means of multiple password levels
Automatic notifications of event and alarms
Archive manager for easy access to the stored recordings
Possibility to send email notification
Possibility to send SMS notification(SIM card required)
Multi-chamber management
System available in several languages
Test Program Editor
Unlimited possibilities for storing cyclesof 350 segments delaying their execution
Internal repetitions of 10 groups of segments up to 999 times each
Possibility to upload, edit, export, and delete already existing cycles and recordings
Graphic and numeric profile parameters data entry
Graphic Functions (Graphic Viewer)
Live data update of measures on the charts
Graphic charts or numeric table representation views on the monitor
Graphic cursor for in-chart datameasurements and evaluations
Calculation of Measure Slopes and report generation.
Enable/disable of chart display
Zoom in, zoom out and scroll functions
Export function to convert the MyKratos™ log file into ASCII format (usable in Excel or other applications)
Key Features
Robust structure.
Top-of-sector performance, in terms of both the breadth of the regulation field and the speed of the temperature and pressure variations.
Optimized system for the thermoregulation of the walls of the test chamber in both the heating and cooling phase, even for pressures close to the minimum value (optional).
All-in one MyKratosTM software: all functions in one application.
The new control system – including MyAngel24TM – makes it possible to control, monitor and assist the chamber in any place at any time in multiple ways (WiFi, Ethernet, mobile networks) via mobile and desktop devices.Industrialization of the control, cooling, humidification, and pumping devices, in order to guarantee maximum quality and reliability as well as ease of access to the various maintenance points.
Basic Configuration
MyKratos™ including MyAngel24™
Inspection window: multiple-crystal, with double heated transparent film, 300h X 300 mm size
Internallighting
Feet: height adjustable
Closing: mechanical
Porthole: 100 mm (right side). This allows internal- external electrical, mechanical or hydraulic connections
Thermostat: max./min. digital thermostat with independent probe
Auxiliarycontacts (specimens, alarms)
Interface: Ethernet port for remote control system connection and RS232
Watercondenser
Available Options
150L, 500L, 1000L, 2000L capacity altitude chamber equipped with thermoregulated air blowing system
ES version for Environmental Stress Screening is available
Additionalportholes: 50, 100 and 160mm, see drawing for available positions
Internalshelves: AISI 304 stainless steel
Maxtemperatureextension: limit at +180°C
Min pressure extension: limit at 1 mbar
Set of no.4 analogic inputs: 0÷10V for user's data acquisition (no. 1 set max)
Set of no. 4 PT100 inputs (no.1 set max)
Set of no. 8 auxiliary contacts (no.1 set max)
No break power unit for PLC
Remoteaircondenser
6-channel microprocessorrecorder with no.1 PT 100 and pressure recording sensor
Wallcooling (excluding door) with dedicated temperature sensor
Wallcooling/heating (excluding door) with dedicated temperature sensor
MyKratos™Multichambersoftware: installed in a PC to monitor and control multiple chambers (to be supplied upon request)
Request Quote
Please select the form below relevant to your enquiry:
Videos