Control System

WinKratos is the software developed by ANGELANTONI Industrie S.p.A. for the monitoring and supervision of ATT climatic chambers through a PC (at customer care or on request), running under Windows (XP/VISTA/7 Professional version or higher).
Through WinKratos it is possible to create test profiles (programs), launch or interrupt the execution of a test in "manual" or "program" mode, display data in table or graphic form, and generate a report showing test results.
The software is designed to control not only single chambers but a whole test lab. It can then later be "scaled" and updated, if new machines are added to existing ones, with minimal impact in terms of time and resources.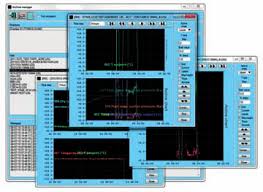 Software Winkratos Multichambers
Main Features
Connection of chambers of any type, by different kinds of interface in order to meet specific customer needs about distance, noise, etc… (Rs232, 485, 422, Ethernet)
Colour printing on any kind of printer;
Multiple access, password level.
Graphic Functions
Fully-configurable layout of acquired measures' charts;
Display of several charts on the monitor;
Several colours to be chosen at one's choice for the display of different parameters' curves;
Enable/disable of chart display and grids;
Real time update of acquired measures' charts.
Operating Functions
Create test programs;
Refer to and modify previously created test programs;
Delete all test programs that are no longer necessary;
Print any test program in text format.
Acquisition Functions
Real-time measurements of test parameters by means of graphic cursors;
Maximum flexibility for cycles to be set;
Storage of occurred events such as alarms, commands, etc…
---
KeyKratos Plus
Based on a PLC structure, the system has a control panel consisting of a color touchscreen which allows the setting of all the necessary parameters for performing automatic and cyclical tests.
Main Features
5.7" touchscreen, 65,536 colors, TFT technology (faster control)
3 types of memory support for storing cycles, recordings, and alarms: Memory Board, Pendrive (USB key style), internal memory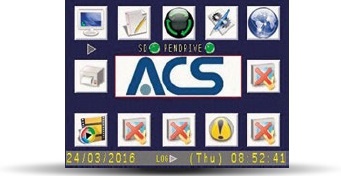 KeyKratos – Main window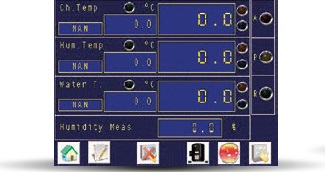 KeyKratos – Main control parameters
Key Features
Memory capacity to 1000 cycles with 350 segments.
Unlimited real time recording of temperature and humidity versus time (LOG).
Recordings in CSV format (Comma Separated Value) for easy export to Excel® (only for 110 and 200 l) via USB interface placed on the front panel (program files are easily convertible into graphic format).
Messages on scheduled maintenance activities.
A trend chart for recorded variables available with a scale from -100/+200.
Synoptic graphs for the chamber, low stage refrigeration and high stage refrigeration.
Basic Configuration
Control by PLC and "KeyKratos Plus" touchscreen on the door
Inspection window- No. 1 internal grid shelf (for 60, 110 and 200 l)
Air condenser- Internal light
No. 1 porthole- Min/max digital thermostat with independent probe (optional for 16 and 60 l)
No. 1 auxiliary free contact- Ethernet port
RS232 serial interfac
Available Options
Additional portholes
UV lamp (only for 110 and 200 l)
Internal shelves (only for 110 and 200 l)
Set of no. 4 analogic inputs
Set of no. 4 PT100 inputs
Set of no. 8 auxiliary contacts (no. 2 for 16 and 60 l)
No break power unit for PLC
Specimen switching off in case of chamber alarm (only for 110 and 200 l)
T e RH analogic retransmission
Supporting table with wheel (only for 110 l)
Software Winkratos for single and multi-chamber control
Resources
Brochures

ACS Compact Chamber Brochure
Request Quote
Please select the form below relevant to your enquiry: