Customised
ACS has an extensive experience in the design and production of special chambers for corrosion testing, mainly for the automotive industry. The advancement of corrosion test applications in the automotive field has led to the launch of new special testing benches, in which alternate exposure conditions cause more severe effects on the products under evaluation.
Indeed, there are other conditions than just a salty atmosphere at play in the real-life use of vehicles, and these increase and worsen the effects of salt corrosion. Whole vehicles or single components can be subjected to an alternation of high and low temperatures, wet and dry conditions, and direct salt solution washing (i.e. splash test, salt rain) within a complete cycling test lasting many weeks.
Walk-in corrosion chambers
Walk-in chamber for corrosion tests combined with wind simulation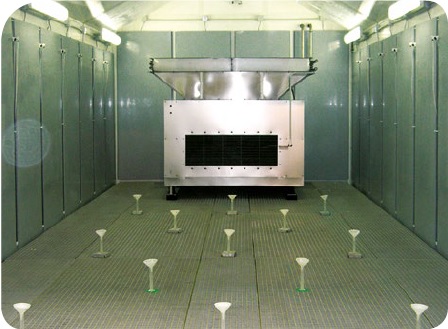 Test chamber for the accelerated aging of high voltage isolators: temperature, humidity, sun light, salt spray.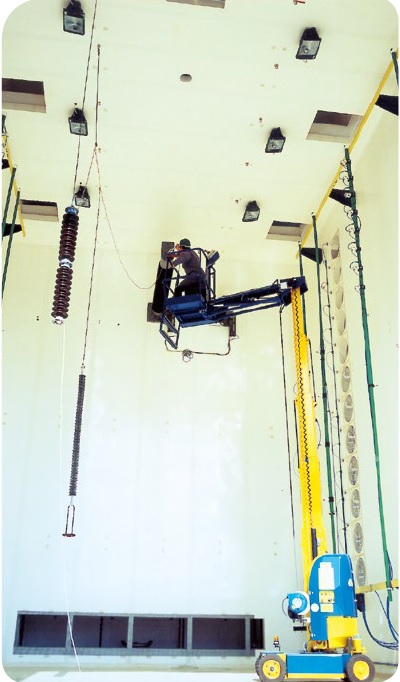 Control System

WinKratos is the software developed by ANGELANTONI Industrie S.p.A. for the monitoring and supervision of ATT climatic chambers through a PC (at customer care or on request), running under Windows (XP/VISTA/7 Professional version or higher).
Through WinKratos it is possible to create test profiles (programs), launch or interrupt the execution of a test in "manual" or "program" mode, display data in table or graphic form, and generate a report showing test results.
The software is designed to control not only single chambers but a whole test lab. It can then later be "scaled" and updated, if new machines are added to existing ones, with minimal impact in terms of time and resources.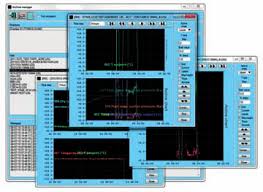 Software Winkratos Multichambers
Main Features
Connection of chambers of any type, by different kinds of interface in order to meet specific customer needs about distance, noise, etc… (Rs232, 485, 422, Ethernet)
Colour printing on any kind of printer;
Multiple access, password level.
Graphic Functions
Fully-configurable layout of acquired measures' charts;
Display of several charts on the monitor;
Several colours to be chosen at one's choice for the display of different parameters' curves;
Enable/disable of chart display and grids;
Real time update of acquired measures' charts.
Operating Functions
Create test programs;
Refer to and modify previously created test programs;
Delete all test programs that are no longer necessary;
Print any test program in text format.
Acquisition Functions
Real-time measurements of test parameters by means of graphic cursors;
Maximum flexibility for cycles to be set;
Storage of occurred events such as alarms, commands, etc…
---
KeyKratos Plus
Based on a PLC structure, the system has a control panel consisting of a color touchscreen which allows the setting of all the necessary parameters for performing automatic and cyclical tests.
Main Features
5.7" touchscreen, 65,536 colors, TFT technology (faster control)
3 types of memory support for storing cycles, recordings, and alarms: Memory Board, Pendrive (USB key style), internal memory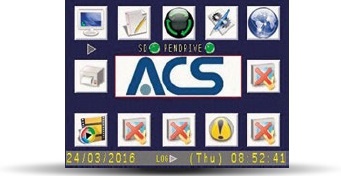 KeyKratos – Main window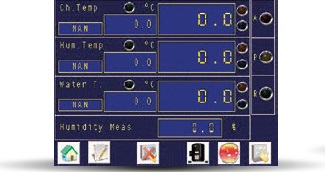 KeyKratos – Main control parameters
Key Features
High-resolution dosage and high-precision spraying of the saline solution (atomization).
Fully-transparent hood with servo-assisted opening (600-1200 l) or 

pneumatic system for handling (2300 l)

.

Automatic stop of the running test in case of unintentional opening.
Regulating-valve manometer for the control of compressed air flow.
Flowmeter for the reading of the saline solution flow.
VDA (with or without cooling unit) and SAE J2334 tests are available as options.
On request the chamber can carry out tests according to the main Test Standards.
Available Options
Additional portholes: 100mm, see drawing for available positions.
Wheels: wheels complete with feet (600 – 1200 l)
PT100 additional probe: max. 3
Rack for specimens
Rods for specimens: wood rods (600 – 1200 l)
Compressed dehumidification kit
Graphic recorder: 6-channel microprocessor-based recorder
Digital pH gauge: portable gauge
Additional external tank: 200-liter capacity
Cart with wheels for tank
Air compressor demineralizer: single-column system
Max. temperature +60°C
Salt solution tank heater (according to JIS Z 2371)
Software WinKratos™ for single-chamber remote control
Software WinKratos™ for multichamber remote control, max. 16 chambers
Wetting test: temperature control in a saturated environment with water bath heated at the bottom of the testing space.
VDA test with cooling unit: water bath temperature at the bottom of the testing space is controlled by an external cooling unit. The external fan provides for air circulation inside the chamber. The air circulation system is a closed loop. This configuration includes the following option:

Wetting test
SAE J2334 test: this configuration includes the following options:• Max temperature +60°C• Wetting test• Kesternich Test (600 -1200 l) according to DIN 50018: dedicated line for SO2 inlet.
Resources
Brochures

ACS Corrosion Chamber Specifications
Request Quote
Please select the form below relevant to your enquiry: