Product Overview
Multiple-Input Multiple-Output Vibration Control Software
MIMO Testing has gained a huge momentum in the past decade with the development of multiple shaker table systems, the availability of Multiple-Input Multiple-Output (MIMO) controllers, and the readiness of the standards (e.g., Mil STD 810G method 527 and IEST DTE 022 working group recommendation). The Multiple-Input Multiple-Output (MIMO) Control System includes the following:
Learn More
Key Features
The multi-shaker system ranges from Multiple Exciter Single Axis (MESA), with 2 or more shakers involved, to Multiple Exciter Multiple Axis (MEMA), i.e., three axis translational shaker table, such as earthquake testing table, or 6 DOF Multi-Axis Shaker Table (MAST) table, etc.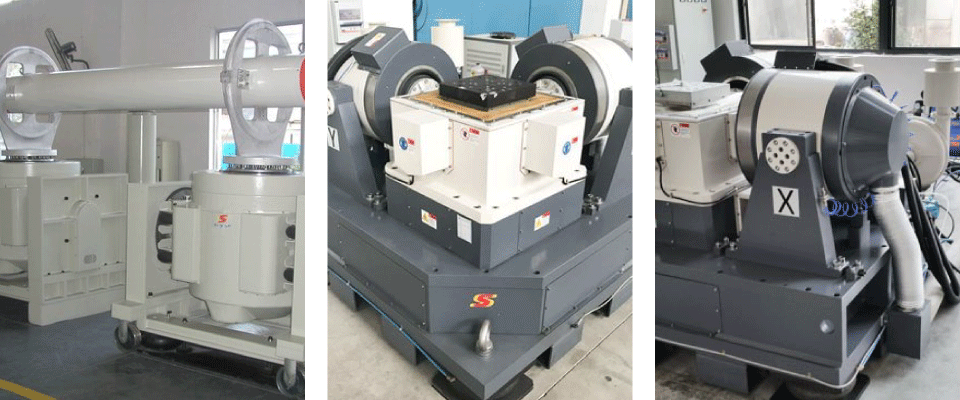 Test Management
Tests are managed through a MSSQL Server database. Signal files, test set-up, and UUT (machine) information are stored in the database. Users can search through previous tests using keywords, time, or date information. The database may be installed on local computer or a server on a LAN.
Black Box Mode: Operate Without PC
A supported front-end can operate in Black Box mode which allows it to acquire data without a connected PC. In this mode, a PC is only used to configure the system before the test and then to download the data after the test is complete. During the test, the front-end can be operated according to a preset schedule or from a variety of external devices, such a Wi-Fi enabled PDA or iPad.
Measurement Quantities
The user has an option to select a wide range of measurement quantities. Typical measurement quantities include acceleration, velocity, displacement, force, strain, torque, temperature, voltage, angle, phase, resistance, tacho speed, pressure, voltage, time, frequency, angular velocity, current, sound pressure, and mass.
Languages
English, Russian, Japanese, simplified and traditional Chinese are available. Languages can be switched without reinstalling software.
Continuous Data Recording
During vibration control, all measurement input and drive signals can continuously record to a Spider-NAS or the internal storage residing in each front-end. Users can view and analyze data files with Crystal Instruments Post Analyzer. The variable sampling rate can be enabled to simultaneously record slow-change signals together with high speed vibration data
Available Options
For further information on options available for this Product, please contact our specialist sales team on:
+44 (0) 1462 481859 or
Resources
Brochures

VCS Brochure
Request Quote
Please select the form below relevant to your enquiry:
Software
Monitoring Through EDM Cloud
All tests in EDM-VCS support status checks through EDM Cloud. With EDM Cloud support, users can set up any VCS test to upload live data or run logs for completed tests to a cloud storage space provided by Crystal Instruments, where data is securely stored in the user's account.
The EDM Cloud website is located at https://cloud.go-ci.com. Users can access EDM Cloud from anywhere in the world to check the status of past and current tests. A secure login flow ensures the status can only be checked by authorized personnel with proper credentials. Multiple logins for accessing the same Cloud account is available.
Hardware
A Spider system can consist of one or more Spider hardware front-ends. The user constructs the system by combining Spider front-ends detected on the same LAN. The software validates and displays hardware attributes of each Spider front-end.
Spider-80M MIMO Controller: based on the efficient Spider-80Xi architecture and is dedicated to MIMO VCS control and MIMO structural testing applications.