Product Overview
TWR allows for measuring your own time vibration data and playing it back on a shaker. Any arbitrary number of time profiles can be run on a defined schedule, duplicating long waveforms as precisely as they were recorded. Users can enable up to 8 channels for control and time data recording on the master front-end, and up to 512 total channels when including a system of slave front-ends.
Learn More
Key Features
Unique Algorithm
Crystal Instruments invented a new algorithm that can faithfully duplicate any long control time signal continuously on a shaker system. This algorithm convolves the system transfer function and the target profile in time domain and then creates a continuous drive signal. On the screen, the target profile and the actual control waveforms are displayed together and can be recorded continuously.
Compatible with Crystal Instruments Data Acquisition Systems
The time waveform signals recorded by a Crystal Instruments data acquisition system (either a CoCo-80X or a Spider-80X) can be directly applied to time waveform (TWR) vibration control.

Continuous Data Recording
During vibration control, all measurement input and drive signals can continuously record to a Spider-NAS or the internal storage residing in each front-end. Users can view and analyze data files with Crystal Instruments Post Analyzer. The variable sampling rate can be enabled to simultaneously record slow-change signals together with high speed vibration data.
Time Waveform Replication
Number of Waveform Profiles: Infinite number of Waveform recordings (subject to the available flash memory) is simultaneously supplied to automatically run one after the other on the test specimen.
Maximum Number of Points: all internal flash memory space is used for storing profile data (currently 3.7 GB), which corresponds to approximately 1 billion data points. At a sampling rate of 200 samples/sec. It can replicate a waveform of about 50 days.
Maximum Frequency Range: waveforms of up to 18 kHz (fa) can be replicated.
Maximum Sampling Rate of Data: users can import waveforms of any sampling rate up to 102.4kHz into the Waveform Editor tool and convert them to a suitable frequency range.
Waveform Editor
Editing: cut, paste, rescale, fill in, taper end points, apply windows, decimate
Displacement Compensation: brick-wall high pass filter, high pass filter, DC removal, or disabled
Compensation Template: high pass filter, low pass filter, band pass filter, acceleration DC removal, velocity DC removal.
Signal View: time waveform of acceleration, velocity, and displacement; FFT spectra; shaker limits; histogram
Editing Redo: allows the user to redo a previous editing
Window: half sine, Hann, triangle
Available Options
Line number for spectral analysis sets the number of spectral lines. More lines increase the resolution of frequency data.
Bin Number sets the resolution of histogram data.
Profile Quantity sets the quantity as acceleration, velocity, displacement, or voltage
Undo Max. Step sets the number of cached operations for the Undo command
Start Average Frame sets the starting frame of the average.
Resources
Brochures

VCS Brochure
Request Quote
Please select the form below relevant to your enquiry:
Videos
Abort Limits
TWR abort limits are similar to the abort lines in Shock and are defined in the time domain. If the level of the control signal, within the vicinity of the waveform output, falls outside these limits then an abort event is triggered.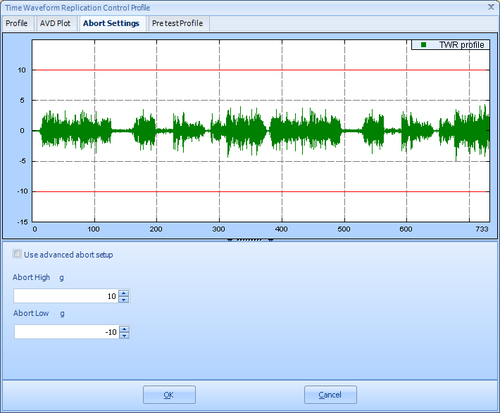 Time Waveform Replication Control Profile
The top of the window shows an acceleration waveform in green. The abort limits are red lines.
The bottom pane has the abort high and low limits which can be set by the user. The user also has options to define different abort limits at different points of time of the time domain waveform. Further details about the different settings available for abort settings are listed in the "Editing Profile and Abort Settings" section below.
Hardware
A Spider system can consist of one or more Spider hardware front-ends. The user constructs the system by combining Spider front-ends detected on the same LAN. The software validates and displays hardware attributes of each Spider front-end. The following hardware is supported by EDM VCS software for vibration control, monitoring, and data acquisition.
Software
Monitoring Through EDM Cloud
All tests in EDM-VCS support status checks through EDM Cloud. With EDM Cloud support, users can set up any VCS test to upload live data or run logs for completed tests to a cloud storage space provided by Crystal Instruments, where data is securely stored in the user's account.
The EDM Cloud website is located at https://cloud.go-ci.com. Users can access EDM Cloud from anywhere in the world to check the status of past and current tests. A secure login flow ensures the status can only be checked by authorized personnel with proper credentials. Multiple logins for accessing the same Cloud account is available