Models
Product Overview
ACS complete line of thermal shock chambers includes either Air-to-Air or Liquid-to-Liquid models, designed for thermal shock tests on components or complete equipment by submitting them to rapid temperature changes automatically. They are suitable for Quality Control Laboratories or in Production plants for the screening of commercial and military components.
The extreme versatility of ACS chambers allows users to carry out a wide range of tests necessary to determine thermal characteristics under the effect of two alternating extreme temperatures. lt is possible to offer standard or custom-designed models, either vertical, horizontal or "walk-in" types.
Their wide range of accessories, the large range of temperatures, the reliability of the mechanical cooling systems and the After-Sales Service Assistance contribute to make ACS chambers an essential factor for Quality ControI and Production facilities.
Learn More
Control System

WinKratos is the software developed by ANGELANTONI Industrie S.p.A. for the monitoring and supervision of ATT climatic chambers through a PC (at customer care or on request), running under Windows (XP/VISTA/7 Professional version or higher).
Through WinKratos it is possible to create test profiles (programs), launch or interrupt the execution of a test in "manual" or "program" mode, display data in table or graphic form, and generate a report showing test results.
The software is designed to control not only single chambers but a whole test lab. It can then later be "scaled" and updated, if new machines are added to existing ones, with minimal impact in terms of time and resources.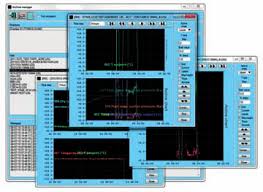 Software Winkratos Multichambers
Main Features
Connection of chambers of any type, by different kinds of interface in order to meet specific customer needs about distance, noise, etc… (Rs232, 485, 422, Ethernet)
Colour printing on any kind of printer;
Multiple access, password level.
Graphic Functions
Fully-configurable layout of acquired measures' charts;
Display of several charts on the monitor;
Several colours to be chosen at one's choice for the display of different parameters' curves;
Enable/disable of chart display and grids;
Real time update of acquired measures' charts.
Operating Functions
Create test programs;
Refer to and modify previously created test programs;
Delete all test programs that are no longer necessary;
Print any test program in text format.
Acquisition Functions
Real-time measurements of test parameters by means of graphic cursors;
Maximum flexibility for cycles to be set;
Storage of occurred events such as alarms, commands, etc…
---
KeyKratos Plus
Based on a PLC structure, the system has a control panel consisting of a color touchscreen which allows the setting of all the necessary parameters for performing automatic and cyclical tests.
Main Features
5.7" touchscreen, 65,536 colors, TFT technology (faster control)
3 types of memory support for storing cycles, recordings, and alarms: Memory Board, Pendrive (USB key style), internal memory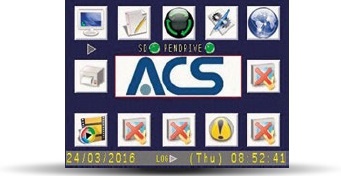 KeyKratos – Main window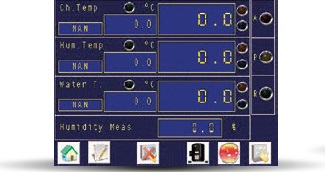 KeyKratos – Main control parameters
Key Features
Carbon steel, industrial paint finish, exterior; stainless steel AISI 304 interior, 18/8.
Argon welded internal chamber. The internal structure is connected to the external structure by means of phenolic joints.
2 ea. large full-light doors with soft double silicone gaskets and key-locks.
Internal ventilation realized by means of powerful propeller fans driven by external motors. They are provided with stainless steel shafts.
Cooling systems driven by two cascade compressors complete with safety valves and thermal protections. Refrigerants: R449A for the first stage and R23 for the second stage.
Heating system by means of armored finned type electric heaters. They are protected by adjustable failsafe overtemperature switches.
Control and regulation by means of a PLC controller/programmer. Its control is based on PID feedback principle. Input/output are connected to Pt100 platinum variable resistance probes.
Thermal probes: Pt100 platinum probes with 100 ohms at 0°C as per DIN specifications.
Electric connections according to IEC specifications.
Blowers stop during the basket movement.
Microswitches on chamber doors.
Safety push button in case of emergency.
"Undercooling" or "overheating" operation modes available.
Available Options
LN2 Auxiliary Cooling
Graphic Recorder
Specimen Temperature Recording
Connecting Portholes
Gaseous Nitrogen (N2) Purging System
Set of no. 8 auxiliary contacts
RS 232 interface + Winkratos SW
Remote air condenser (on request)
Special voltages or frequency (on request)
Resources
Brochures

ACS Thermal Shock Chambers Brochure
Request Quote
Please select the form below relevant to your enquiry: