Product Overview
ACS offer an impressive 4 models of modular Walk In Chambers according to their useful capacity: Compact (10 m3), Medium (16 m3), Large (30 m3) and Extra Large (40 m3).
ACS aim to unite customers with a cost-effective, modular design of the four basic elements of a walk-in chamber that can be mixed and matched to provide a configuration to suit the majority of requirements:
Cooling Unit.
Air Treatment Unit
User interface.
Test room
The control system interface is placed near the door for all the versions of the walk-in chamber. It comprises:
Emergency STOP push button.
Touch panel programmer / controller.
Serial interface RS 232/422
Software + personal computer (optional).The chamber is equipped with a PLC (Programmable Logic Controller), used to manage all chamber functions and safety interlocks.
A special device is used to control the chamber via "mobile" devices, such as Tablets and Smartphones, or to establish a remote Internet comnnection. The HMI system consists of an on-board panel  and a Remote connection control (MyKratos™ and MyAngel™).
Learn More
Customised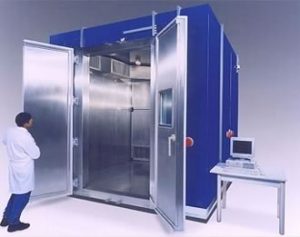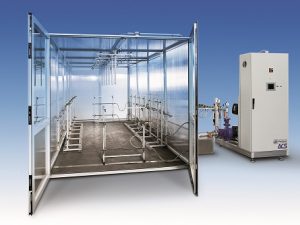 Walk-in chamber equipped with indirect cooling system to test specimen (base station) with high heat dissipation
Walk-in chamber for rain tests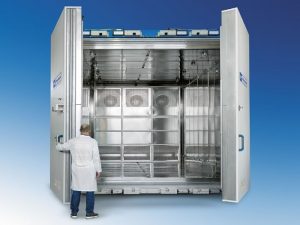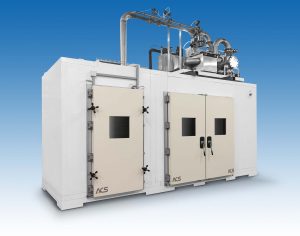 Walk-in chamber for tests on satellite antennas and panels cooling system to test specimen (base station) with high heat dissipation
Calorimeter to measure the efficiency of air conditioning systems
Control System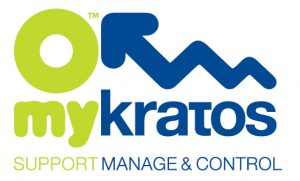 MyKratos™ control software makes it possible to manage, monitor and assist the chamber anywhere, at any time, in multiple ways via the on-board panel and desktop/mobile devices (Wi-Fi, Ethernet, mobile network). The chamber wireless (Wi-Fi) connection permits operation using tablets and smartphones (iOS or Android compatible).
The operator interface can also be remotely accessed through a chamber connection to the customer's LAN or via mobile network (on activation of a SIM card data). It includes the MyAngel24™ interactive assistance system.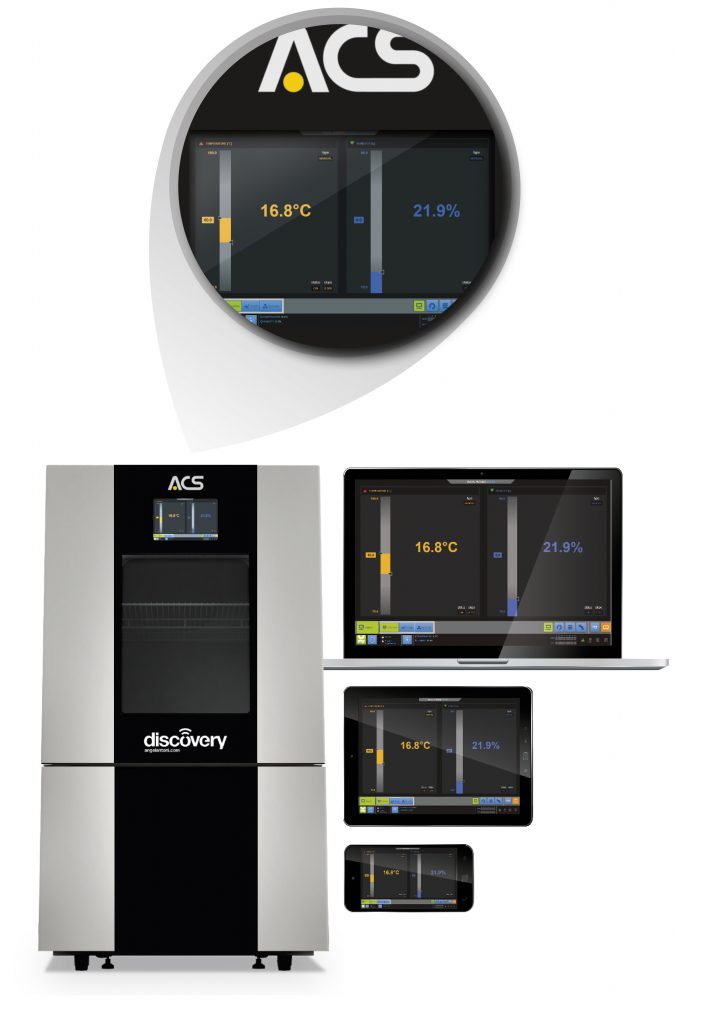 Main Features
Wi-Fi or Ethernet connection to the chamber
Visualization and graphical analysis of measures and recordings
Synoptic charts of the entire system
Multilanguage support
High configurability of chamber parameters
Unlimited measures recording possibilities
Program and Manual chamber operation modes
Delayed start of a program
Possibility to select more than one chamber from a single Tablet: secure access by means of multiple password levels
Automatic notifications of event and alarms
Archive manager for easy access to the stored recordings
Possibility to send email notification
Possibility to send SMS notification(SIM card required)
Multi-chamber management
System available in several languages
Test Program Editor
Unlimited possibilities for storing cyclesof 350 segments delaying their execution
Internal repetitions of 10 groups of segments up to 999 times each
Possibility to upload, edit, export, and delete already existing cycles and recordings
Graphic and numeric profile parameters data entry
Graphic Functions (Graphic Viewer)
Live data update of measures on the charts
Graphic charts or numeric table representation views on the monitor
Graphic cursor for in-chart datameasurements and evaluations
Calculation of Measure Slopes and report generation.
Enable/disable of chart display
Zoom in, zoom out and scroll functions
Export function to convert the MyKratos™ log file into ASCII format (usable in Excel or other applications)
Key Features
Flexible and modular design for a wide production range
Strong standard floor 3000 Kg/m²
Robust self-supported structure
High degree of customization through many accessories(portholes, door inspection windows, double wing door)
Quick assembling on site
Quick disassembling to relocate or rebuild the chamber if necessary
Easy upgrading and refurbishing thanks to unit plant and air treatment modularity
Basic Configuration
MyKratos™ including MyAngel24™
Single wing door
Skidproof floor: stainless steel floor with anti-slip surface treatment
Closing: mechanical
Thermostat: max./min. digital thermostat with independent probe
Auxiliary contacts (specimens, alarms)
Interface: Ethernet port for remote control system connection and USB port for operator panel
Water condenser
Available Options
Inspection window for single wing door: multiple-crystal, with double heated transparent film, 450×450 mm size
Double wing door: with 2 heated multi-pane windows with double transparent film, 450×450 mm size
Additional portholes: no. 2 Ø150mm portholes, number and positions available as per drawings
Set of 4 input PT100 (max 1 set) (no. 1 set max)
Set of no.4 analogic inputs: 0÷10V for user's data acquisition (no. 1 set max)
Set of no. 8 auxiliary contacts (no. 1 set max)
No break power unit for PLC
Specimen switching off in case of chamber alarm
Remote air condenser
MyKratos™Multichamber software: installed on a PC, for monitoring and control multiple chambers (to be supplied upon request)
Resources
Brochures

ACS Walk In Chamber Specifications
Request Quote
Please select the form below relevant to your enquiry:
Videos