Product Overview
ACS has developed and is producing a full range of chambers for Liquid-to-Liquid thermal shock tests. This standard range of chambers meets any commercial or military test specification.The chamber body is gray RAL 7035, the front is blue RAL 5015.Two powerful compressors are connected in cascade and provide rapid and reliable temperature cooling performance. Environmentally friendly refrigerants are also used.
The basket movement is electrically operated.The time needed by the basket to move from one well to the other is less than 10 seconds. A plexiglass cover door closes the test volume in order to minimize the liquid consumption by evaporation.The ACS Liquid-to-Liquid thermal shock chambers are designed to use one fluid only such as the GALDEN D02
Learn More
Control System

WinKratos is the software developed by ANGELANTONI Industrie S.p.A. for the monitoring and supervision of ATT climatic chambers through a PC (at customer care or on request), running under Windows (XP/VISTA/7 Professional version or higher).
Through WinKratos it is possible to create test profiles (programs), launch or interrupt the execution of a test in "manual" or "program" mode, display data in table or graphic form, and generate a report showing test results.
The software is designed to control not only single chambers but a whole test lab. It can then later be "scaled" and updated, if new machines are added to existing ones, with minimal impact in terms of time and resources.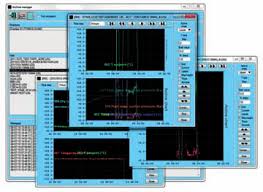 Software Winkratos Multichambers
Main Features
Connection of chambers of any type, by different kinds of interface in order to meet specific customer needs about distance, noise, etc… (Rs232, 485, 422, Ethernet)
Colour printing on any kind of printer;
Multiple access, password level.
Graphic Functions
Fully-configurable layout of acquired measures' charts;
Display of several charts on the monitor;
Several colours to be chosen at one's choice for the display of different parameters' curves;
Enable/disable of chart display and grids;
Real time update of acquired measures' charts.
Operating Functions
Create test programs;
Refer to and modify previously created test programs;
Delete all test programs that are no longer necessary;
Print any test program in text format.
Acquisition Functions
Real-time measurements of test parameters by means of graphic cursors;
Maximum flexibility for cycles to be set;
Storage of occurred events such as alarms, commands, etc…
---
KeyKratos Plus
Based on a PLC structure, the system has a control panel consisting of a color touchscreen which allows the setting of all the necessary parameters for performing automatic and cyclical tests.
Main Features
5.7" touchscreen, 65,536 colors, TFT technology (faster control)
3 types of memory support for storing cycles, recordings, and alarms: Memory Board, Pendrive (USB key style), internal memory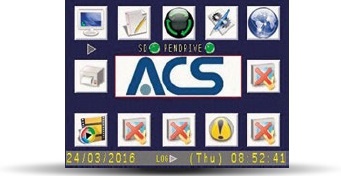 KeyKratos – Main window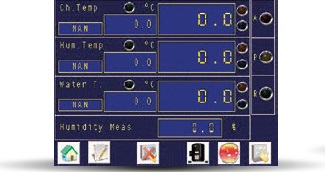 KeyKratos – Main control parameters
Key Features
A special evaporator for the fluid vapour condensation (fitted as standard) is placed over the wells, and allows condensation and recovery of the fluid vapours.
These features put our chambers at the top range of the worldwide production with
highly reduced fluid consumption (i.e.approx.3 g/h for CSTL20 and only 0,5 g/h for the CSTL12).
The chamber is equipped with an expansion "bellow" used for pressure compensation during the test operations. This avoids over pressure inside the chamber that can force the door and cause fluorinert leaks.
The CSTL models can be equipped with a wide range of accessories (recorders, customised shelves for the specimen, vapour suction blower with automatic butterfly valve, etc.).
Available Options
For further information on options available for this Product, please contact our specialist sales team on:
+44 (0) 1462 481859 or
Resources
Brochures

ACS Thermal Shock Chambers Brochure
Request Quote
Please select the form below relevant to your enquiry: